The Small Business Guide to Generating Leads with Facebook Live

Not long ago, Facebook was a platform for sharing the past: the photos you took, the article you read, the thoughts you had at one moment in time. But now, Facebook users can share another dimension of their lives and businesses: the present.
In late 2015, the social media giant introduced Facebook Live, allowing users to live stream video to their followers anytime, anywhere. Practically a new content format, Facebook Live offers uses for any type of small business looking to engage with customers and generate leads. A real estate agent could take viewers on a live tour of a listing, while a retailer hosts a live giveaway for a new product. A financial planner can do a live Q&A to answer questions from viewers, while a fitness instructor live-streams a class so prospective students can see what it's like.
Like any marketing tactic, a Facebook Live broadcast might earn only a quick glance from users as they scroll through the News Feed. But if planned strategically as part of a broader marketing plan, Facebook Live can help small businesses capture leads, increase loyalty, and ultimately, grow sales.
In this guide, we'll explore how to create a Facebook Live video and use it strategically in your business. We'll cover:
Why your business should consider Facebook Live
Content ideas for Facebook Live
Step-by-step directions for recording a live broadcast
Strategies for increasing Facebook Live traffic and engagement
How to automatically capture and follow up with leads using Facebook Live
Chapter

02

:
Why your business should consider Facebook Live
If video is a personal way to communicate with customers, Facebook Live takes it to the next level. Like no other platform, Facebook Live allows for real-time conversations, with users commenting on the video and hosts answering their questions live on air.
Another plus for businesses: Live video requires less effort than filming, editing, and producing a polished video. It's supposed to be more spontaneous and more authentic—"like having a TV camera in your pocket all the time," Facebook founder Mark Zuckerberg once said (during a Facebook Live, of course).
Facebook Live also creates a sense of urgency among viewers to watch the video now—even though the content remains on your feed indefinitely, unlike the disappearing videos on Snapchat or Instagram Stories. Because of the time-sensitive nature of live streaming, Facebook has said its live videos appear higher in the News Feed, and that users' time spent on live videos is three times longer than time spent watching recorded videos. The visibility of Facebook Live videos is especially important considering that the average post from a business reaches less than 10 percent of followers and engages only 4 percent of them, according to a study by Locowise.
But, as with any marketing efforts, small businesses shouldn't necessarily do Facebook Live just to say they tried it. A Facebook Live video will best serve your business if you have a goal behind it—and that goal will impact your approach to the broadcast.
For example, if your goal is collecting leads, you can promote a piece of content or an offer during your Facebook Live to encourage opt-ins to your email list. To simply get as many video views as possible, you might consider hosting a Facebook Live contest in which viewers have to tag friends or share the post to win. To increase attendance at an in-person event, you could broadcast it on Facebook Live and drive prospective attendees to register for the next one. We'll cover more strategies like this in the "Following up after Facebook Live" section.
Chapter

03

:
How to start recording a Facebook Live
Facebook Live was made for mobile. All you need to get started is a device that has a camera and connects to the internet. To start recording a Facebook Live video, follow these steps.
Set up your phone or tablet, ideally using a tripod. Take a quick test video to check your background, sound, and lighting.

Make sure your Internet connection is strong, using Wi-Fi if possible. The "Go Live" button will be grayed out if you have a weak connection.

Go to your Facebook page and click "publish," as if you're about to write a post. Tap the Facebook Live button to the right of the camera icon, then "continue." (Don't worry, you're not live yet.)

On this screen, Facebook asks you to describe your live video. This is the only text that will accompany the video, so be sure to write a headline that describes your Facebook Live broadcast and invites users to be part of it. For example: "We're live showing you our latest products! Comment to ask us a question or tell us what you'd like to see us create next." If guests are joining your Facebook Live, tag them to extend the reach of your video.

Pro tip: To practice recording a Facebook Live video without actually going live, change the audience to "only me." This option is only available from your personal page, not your business page.

Click "Go Live." You'll get a countdown of 3, 2, 1—and then it's show time! Comments will appear in the white box below your video. When it's a wrap, click "finish" at the bottom of the screen.

Facebook will automatically post the replay of your video on your page, with the header "(Company) was live." Mark the checkbox to save a copy of the video to your device for safekeeping.

See how your video performed by checking your analytics from Facebook Business Manager. Click "insights," then "videos" to study metrics like the number of people who watched your video, the average amount of the video they watched, and the peak time for video viewership.
Chapter

04

:
Top 10 most-viewed Facebook Live videos
Practically anything can be material for a Facebook Live video—and practically anyone can film one. The most viewed Facebook Live streams of 2016, the first full year for the platform, were produced by the biggest media organizations, small businesses, and average Americans alike.
For an idea of what type of content trends on Facebook Live, check out the top 10 most viewed videos of 2016:
Chapter

05

:
Seven content ideas for Facebook Live
A Facebook Live video can be as ambitious as an interview with former President Barack Obama or as simplistic as a live stream of two people trying to make a watermelon explode with rubber bands.
Few Facebook pages can match the influence or reach of BuzzFeed, which produced both of the aforementioned Facebook Live videos. So if you can't land an interview with the president or get 11 million views from a watermelon explosion, what can you do on Facebook Live?
Here are seven ideas for Facebook Live content that small businesses can execute.
1. Q&A session
You're the expert in your industry. Show it by hosting a Facebook Live Q&A in which you invite followers to ask questions you'll answer in real time. While demonstrating your knowledge and personality helps you earn trust, viewers get instant help with the problems that led them to your business in the first place.
If you don't want to answer every question yourself, which can be logistically (and mentally) challenging, gather members of your team to take turns. That's what Infusionsoft did when we hosted this Facebook Live Q&A about content marketing. Three members of our team shared tips, while another staff member texted us viewers' questions so we didn't have to multitask with the live comment feed.
Insider tip: Start the Q&A before the Q&A officially starts. In the days leading up to this Facebook Live, we invited our Facebook followers to send questions in order to ensure we had topics to kick off the conversation.
2. Interview
For decades, entertainers and journalists from Johnny Carson to Oprah to Jerry Springer have made interviews the basis of good TV. A Facebook Live interview can have the same entertainment value, but with an added bonus: the ability to interact with viewers and take questions live on the air.
Interviews reveal stories and insights that can be helpful to viewers—and they humanize your company, showing the faces and personalities behind your brand. Interview a staff member or industry leader about their work, or invite a customer to discuss their experiences in life and business. That's what Infusionsoft did for this Facebook Live interview with three customers who were named finalists for our Small Business ICON Contest.
Insider tip: As with any Facebook Live broadcast, your interview should not only be interesting content, but it should lead viewers toward taking another step with your company. While asking customers about their business lessons and successes, our Infusionsoft interviewer mentioned registering for ICON (the annual conference at which the award is presented), and we included links to the event in the comments.
3. Behind-the-scenes tour
In a world where we can take a 360-degree virtual tour of the White House on our phones, behind-the-scenes footage isn't necessarily rare. But somehow, a tour feels more special and authentic when it's live, the way that sitting in the front row for a play is different than watching the movie version at home.
Use Facebook Live to give a glimpse of the way you do business, whether it's a tour of your office, a video of your product being manufactured, or a live stream of a class you teach or service you perform.
Apparently, Mark Zuckerberg saw behind-the-scenes footage as a key content type for his new platform: The first Facebook Live was, in fact, a four-minute tour of Facebook headquarters that gave insights into the company's culture (where an open floor plan facilitates collaboration) and its leaders (no one, Zuckerberg included, has their own office).
4. Live event coverage
If you're hosting or attending an event that would be interesting to your followers, take them along with you. Use Facebook Live to broadcast an event in its entirety (think C-SPAN) or to film a live scene from an event (like CNN). Set up a tripod and film the speech you're giving to an association, or record and narrate a tour as you're exploring an industry expo.
When Infusionsoft hosted Sen. John McCain and former Gov. Mitt Romney for a panel on the role of small businesses in today's economy, we broadcasted the hour-long discussion on Facebook Live—extending the reach of the event far beyond our Arizona office.
Insider tip: When you're live streaming an event, be sure to provide context about where you are and why you're sharing the event with your followers. Knowing that highlighting this event at Infusionsoft could draw accusations of political bias, we pinned this statement to the top of the comments: "Please note: This is a pro-business, apolitical event. Infusionsoft does not support nor endorse any political party or candidate. This is a panel discussion focused on the growing technology/small business/startup scene in Arizona and the US."
5. Tutorial or demonstration
A Facebook Live broadcast can be a best-of-both-worlds blend of two other familiar content types: the tutorial video and the live webinar. YouTube tutorial videos are visual, but they aren't live. And webinars are live, but their visuals are typically limited to static slide decks. Meanwhile, Facebook Live allows you to both share a visual lesson—like a demonstration of a new product or a step-by-step guide to learning a new skill—and to field live questions from viewers during the presentation.
Unity Stamp Co., a stamp manufacturer based in the small town of New London, Minn., frequently uses Facebook Live for tutorials on using stamps in creative projects. In this video, Whitney Magnuson uses stamps from the company's Kit of the Month to create a D.I.Y. coloring book. Facebook Live creates a sense of timeliness and urgency that recorded video may not: By live-streaming this video on Dec. 22, Unity Stamp Co. shared a last-minute holiday gift idea while also promoting year-end pricing on the Kit of the Month.
6. Contest
Even if you promote your live broadcast in advance, you might worry about this worst-case scenario: What if no one besides your mom watches your Facebook Live?
One way to ensure viewers grace you with their presence: Offer a gift in return. Host a contest in which you give away a product or discount to the viewers actively watching or participating in your live stream. While you're heightening the suspense and waiting for more viewers to enter, introduce another type of Facebook Live content, like a product demo or a Q&A.
The small jewelry business Pearls Gone Wild uses twice-weekly Facebook Live contests to both encourage viewership and expand its audience. By liking the company's Facebook page and sharing the Facebook Live post, users are entered into a jewelry giveaway—and have to tune in next time to see the opening of the oyster that contains their pearl.
7. Podcast recording
Long before the days of Facebook Live, radio hosts like Howard Stern and Dan Patrick started filming video of their radio recordings for TV. In doing so, they produce two pieces of content in one sitting, allowing them to cross-promote their shows for audiences who may only tune in on one platform or the other.
If you record a podcast, simultaneously recording it for Facebook Live can help you grow your audience and give a behind-the-scenes look at the people behind the voices. That's what Infusionsoft did when we used Facebook Live to broadcast a recording of our Small Business Success Podcast with Infusionsoft co-founders Clate Mask and Scott Martineau and business coach Pamela Slim.
Chapter

06

:
Promoting your Facebook Live
Some followers will learn about your Facebook Live only because they happened to be on Facebook the same time as you were. Facebook prioritizes your live video in the News Feed placement and sends a notification to people who have recently interacted with or subscribed to your page.
But ideally, you'll also have followers tune in to your Facebook Live because you promoted it in advance, much like you would for a webinar or in-person event. Here are seven ideas for increasing your Facebook Live attendance.
Post about it on social media
Facebook is the obvious place to start advertising your Facebook Live. When Infusionsoft promotes an upcoming live broadcast, we post about it in the days leading up to the broadcast, as well as the day of the event. Tell your followers on Twitter and Instagram about your Facebook Live, too. Don't post too far in advance or people will forget to tune in (unless you collect email addresses, as explored in the next tip.)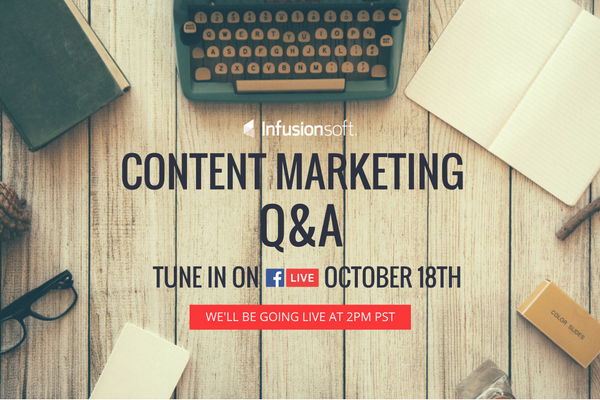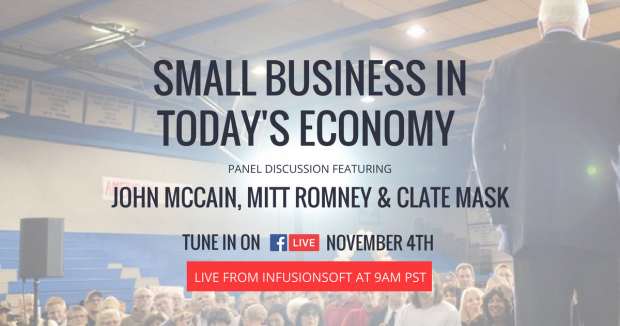 Send promotional and reminder emails
Treat your Facebook Live more like a webinar than a Facebook post by sending a series of reminder emails. Advertise your event in the weeks before your scheduled broadcast, asking contacts to "register" and sign up for event reminders. If you use marketing automation software like Infusionsoft, you can build a list of registrants and schedule emails to be sent in the days and hours before you go live.
Of course, many people may be hesitant to sign up for an event that doesn't require registration. For contacts not yet on your email list, consider adding an opt-in incentive, like a piece of content they'll receive if they sign up. Check out The Small Business Guide to Capturing Leads for ideas of "lead magnets" that entice prospects to opt in and how you can use software to send the lead magnet automatically upon request.
Turn your marketing properties into advertisements
Remind contacts about the date and time for your Facebook Live in any place they see your brand, like your Facebook and Twitter page banners, your emails and email signature, or your blog.
Publicize your Facebook Live to other groups
Where do your followers hang out online? Consider posting a notice of your Facebook Live event in an industry Facebook group, forum, or other community to find new potential viewers.
Ask viewers to turn on notifications
During your Facebook Live broadcast, ask viewers (verbally and in the comments) to turn on notifications for your page. Next time you're live, they'll get a notification: "(Your company) is live."
Optimize your video for search
After your Facebook Live is complete, your broadcast will appear on your Facebook page like a regular video, with the text "(Company) was live." Help more users find it by changing the title and tags on the video to include keywords they might be searching for. Choose a thumbnail image so your video doesn't land on someone sticking their tongue out (or worse).
Consider hosting regular Facebook Live events
Hosting a Facebook Live on a regular cadence can help you build an audience. Consider starting a weekly Q&A or other Facebook Live event, promoting it using the other aforementioned strategies, so that viewers come to anticipate and expect your content.
Chapter

07

:
Increasing engagement during your Facebook Live
Most Facebook users are in scroll mode, casually scanning their feeds for photos and news—and not necessarily anything in particular. If they scroll upon your Facebook Live, the key is getting them to stay there. Follow these tips to keep viewers engaged throughout your broadcast.
Partner up
Ideally, a Facebook Live is at least a two-person, two-device operation. Use one device, like your phone, to shoot the video. Use another device, like a computer or tablet, to monitor the comment feed. By having a partner ask questions, respond to comments, and post links, you can encourage more engagement than you could on your own.
Go long
The longer you go live, the more chances viewers have to discover your video. Facebook Live allows broadcasts of up to four hours. Your video doesn't have to be Gone with the Wind, but try to record for at least 15 minutes.
Introduce yourself (again and again)
Tell viewers who you are, what your company does, and what kind of content you're sharing on Facebook Live—not just at the beginning of the broadcast, but throughout its entirety. Think of a news anchor providing context during a breaking news broadcast. For example: "If you're just joining us, we're live at our company headquarters, where we're doing a Q&A about our new product. We just covered the top features, and now we're about to give you a step-by-step tutorial on how to use it."
Ask for engagement
Tell viewers what you want them to do. Both verbally and in the comment feed, repeatedly ask them to submit questions to be answered during the broadcast. Be specific: A question like "What's the greatest social media challenge you're facing in your business right now?" is more likely to solicit engagement than, "Does anyone have any questions?"
Use Facebook's other engagement features, too, by asking for likes ("Give us a thumbs up if you agree!") and shares ("If you just learned something new, share this post with a friend who could use this information.")
Make viewers feel involved
Facebook Live creates instant connections between brands and users. Help viewers feel like they're part of your broadcast by asking them to introduce themselves and share where they live or what they do. As a host, mention them by name. For example: "Hi Tom, thanks for joining us all the way from Sydney, Australia!" or "This question comes from Emily, who's a lawyer in Columbus, Ohio."
Chapter

08

:
Following up after Facebook Live
Like any marketing tactic, Facebook Live will most effectively boost your business if your engagement with viewers extends beyond the live broadcast. Follow these tips to keep communicating with your Facebook Live viewers.
Use a lead magnet to collect email addresses
To both promote your Facebook Live and follow up after it, use a lead magnet, an offer valuable enough that a prospective customer will submit an email address to receive it. As mentioned in the "Promoting your Facebook Live" section, you can advertise a lead magnet as a "gift" people receive when they sign up for email reminders about your Facebook Live.
During the live broadcast, you can also promote a lead magnet related to the topic of your Facebook Live. For example, if you're hosting a Q&A or tutorial on a particular topic, offer an e-book that goes more in-depth on that same topic. If you're using Facebook Live to showcase a new product, tell viewers they'll receive a promo code for it if they sign up for your emails.
In this Facebook Live Q&A about content marketing, we mentioned related content resources during the conversation and posted links to them in the comments. If you use marketing automation software like Infusionsoft, this link can connect to a landing page, on which users submit their contact information and receive an automated email containing the lead magnet.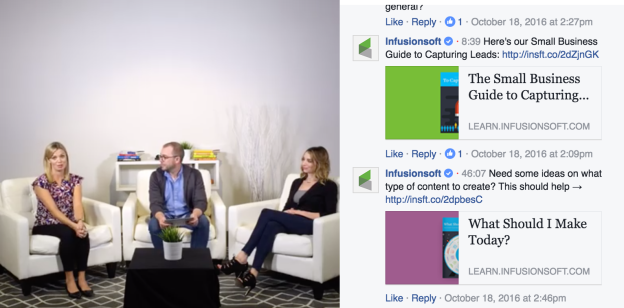 You can then use the software to send an automated series of follow-up emails that help your new contact learn about your business and ultimately present an offer to be purchased. Check out The Perfect Welcome Email to learn about a welcome email series that takes your new contact from stranger to customer.
Insider tip: If you post the link to a lead magnet in the comments of your Facebook Live, users won't be able to click it if they're using their smartphone, only if they're on a desktop computer. Consider pinning a link to the top of your Facebook page or using a link shortener like bit.ly to create an easy-to-remember URL.
Share the video
Following your recording, Facebook makes available the code necessary to embed your Facebook Live video or post in another website. That means you can include the video in any of your marketing materials: Post it on your website, include it in a blog post on the same topic, or post it to YouTube or Instagram to increase its visibility.
Keep the conversation going
Remember that because your Facebook Live video will be visible on your page indefinitely, users may watch it in the hours and days after your broadcast. Be sure to monitor your page and respond to any comments that arise after you went live.
Chapter

09

:
See this on Facebook Live
What better way to learn about Facebook Live than through a Facebook Live? Check out the Facebook Live that Infusionsoft hosted to share set-up tips and strategies for promotion and engagement. Due to technical difficulties, there are two videos—we told you that anything can happen when you're live!
Try us free for 14 days
Start organizing your customer information and daily work in one place.
No credit card needed
Watch how it works
Discover how you can use Infusionsoft to help you get organized, deliver personalized service, and close more sales.