Work smarter, not harder
Stop wasting time chasing down every lead. Marketing automation software transforms how you work to achieve higher engagement with less hassle. Find out who's visiting your website most often? Done. Offer a discount to the hottest leads—without writing an email to every one of them? Yep. Automatically follow up when someone abandons a shopping cart? While you sleep!
Campaign Builder
The Campaign Builder gives you the power to create entire marketing campaigns through a simple drag-and-drop interface, then execute them over and over again without having to repeat the process every time. Be as creative as you want with the best marketing automation software for small business, built to take on any idea you can think of.
Send personalized communications to every contact—automatically
Trigger emails, calls, and other actions based on contact behaviors
Build landing pages, emails, and more from inside the Campaign Builder
Modify your campaigns any time based on what's working best
Get ready-made campaign templates in the Infusionsoft Marketplace
With Infusionsoft, your customers will never feel like just another name in your database. Full CRM integration lets you use the contact information you've collected to personalize your emails and inspire action.
See all contact communication history in one place—single emails, broadcasts, automated marketing messages, and sales activity
Use autoresponders to send a series of seamlessly personalized emails
Keep your communication relevant (a database update today can be in tomorrow's automated email to your customer)
All-new Landing Pages
Stop spending money on extra tools to create landing pages. Meet our all-new, best-in-class Landing Pages. In minutes, you can pick a template, tweak it to your liking, and publish a beautiful, modern page that's mobile-responsive and converts. Boom.
Drag. Drop. Done. Customize your pages in mere minutes with a simple point and click — no coding required!
Mobile-responsive design keeps customers engaged and ready to take action
A gallery of high-converting, business-relevant templates and content blocks to inspire your design
Access thousands of high-quality, royalty-free images
Keep visitors on your page and increase conversion rates with industry-leading page-load speeds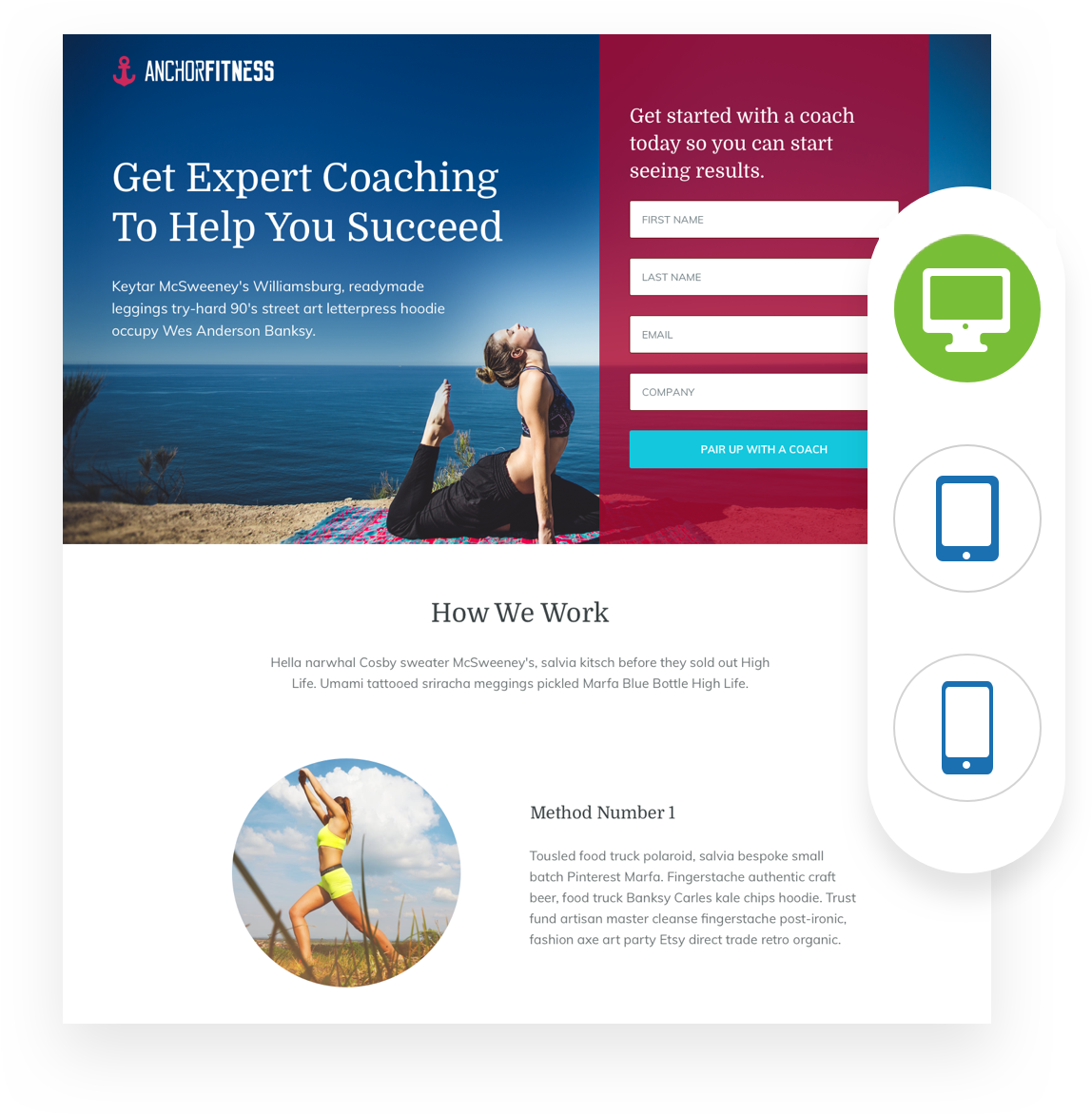 Website tracking
Get a deeper view of what's happening on your website and landing pages with Infusionsoft tracking tools, so you can make smarter decisions based on real data. Because tracking codes are integrated with your CRM, you'll see so much more than just the number of people on your site.
See which visitors, contacts, and paying customers visited a particular page
Calculate how many customers your latest online efforts generated
Automatically assign a lead source to each website visitor
Track visitor activity from their first visit to latest purchase
Identify individual browsing trends using visitor system information
Capture and calculate average time on page per visitor
Statistics and reports
It's not enough to run campaigns and send emails. You need to know what's working (and what's not). Infusionsoft marketing automation software collects and analyzes data on every email you send—and so much more.
Know the number of emails that get delivered, opened, clicked, skipped, etc.
Evaluate web form, landing page, and campaign performance and ROI
View campaign results in real time and make adjustments on the fly
Refine your marketing efforts to maximize every dollar spent
Ready to get started?
See how Infusionsoft can help your business get organized, grow sales and save time.
Start My Demo