December 14, 2017
3 Priority Areas to Address when Planning an Online Business
Over the past decade, tech startups, online business, and e-commerce have altered consumerism as we know it. The brick-and-mortar, filing-and-faxing business model that stood for generations is rapidly leaving center stage. Many owners are realizing that a future-proof plan involves the internet, in one way or another.

sales/e-commerce/how-to-plan-an-online-business

Marketers have been studying the science of online retail for years now. The recurring themes are that businesses must optimize elements like checkout processes, return policies, site responsiveness, mobile friendliness, etc. These topics have been discussed a million times over. As important as they are, there are plenty of other pieces of the puzzle that require close attention.

Whether you are planning to start a new online business, relaunch your website, or build your own app, here are three critical areas that need to have priority.
1. Search engine marketing
Google is becoming more advanced with every update. Search engine marketing is made up of your two distinct components: search engine optimization (SEO) and pay-per-click (PPC).
SEO is the process of getting your website recognized by the search engines organically, whereas PPC is a form of paid advertising that places your content at the top of the result pages.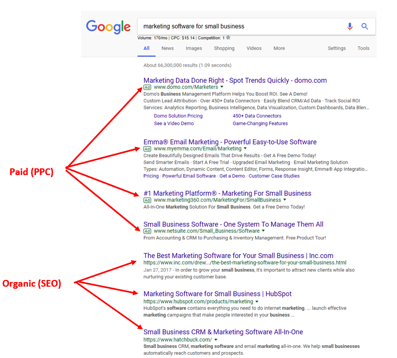 As more than 90 percent of internet experiences begin with a search engine, both of these marketing forms are vital to the promotion and ongoing success of online stores.
Organic rankings are determined by the proprietary search engine algorithms. These rankings correlate with where your website is placed on the SERPs. Being as how very few Google searches make it past page one, the constant goal of SEO is to get listed as close to the top as possible.
While the exact details of what goes into search engine algorithms are famously mysterious, ultimately, the name of the game is building links from authority sites. This involves factors like optimization of relevant keywords, making branded content easy to find, social media engagement, and more. SEO is a process that requires longevity and persistence. Often times, your website won't see results for weeks—sometimes months.
For this reason, it's very important that PPC plays a role in your online business's marketing mix. In fact, studies have found that users who came to a site via paid advertising are 50 percent more likely to make a purchase than organic visitors. PPC enables you to increase your online exposure in a short amount of time and get ultra-targeted footfalls on your platform.
2. Product or service descriptions
Product and service descriptions are, unfortunately, factors of online business that tend to get overlooked. Or, the powers that be simply do not create their pages through the eyes of the average customer.
The end goal for each of these pages is to give people EVERYTHING they need in order to make a confident purchase. A well-crafted description involves a healthy combination of informative copy, high-quality visual supplements, and prominent calls-to-action. All of which needs to accurately reflect the voice, image, and persona of your brand.
The detrimental effect of shoddy description pages is that visitors need to look elsewhere for the information they need. When this is the case, there is a good chance they will turn to a competitor's site for answers. Once they find those answers, they will likely buy from that respective site. When crafting the description pages of your products or services, they should be designed in a way that keeps people on your platform.
Take Firmoo, an online eyeglasses retailer, for example. They know that glasses are typically one of those items where people prefer to go to the store and try on before buying. So, they built their product pages to challenge this stigma.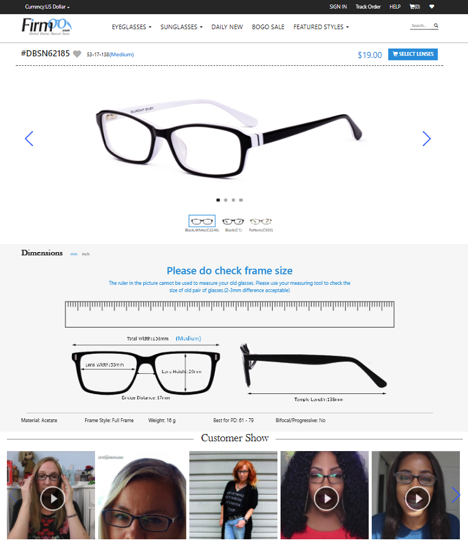 Each product listing gives visitors everything they need to know about the glasses. This includes measurements, weight, material, focus, style, etc. The listings also include customer reviews, as well as pictures and videos of people wearing the product. They even have an option for consultations. At no point in the customer experience do people need to look anywhere else for information.
In general, one of the biggest knocks on e-commerce is that customers don't know exactly what they are going to get until it shows up at the front door. Sites like Firmoo, which put a strong focus on creating stellar product pages, are doing a phenomenal job in beating this perception.
3. Upsells and cross-sells
Upsells and cross-sells are revenue-boosting strategies no online store should overlook.
Upselling refers to offering a superior option to a current product or service
Cross-selling is the act of suggesting related items to consider buying along with a current purchase
[related] https://www.infusionsoft.com/business-success-blog/sales/e-commerce/5-ways-automation-helps-you-supercharge-cross-sells-and-upsells [/related]
Every time you visit Amazon, you see this practice in action.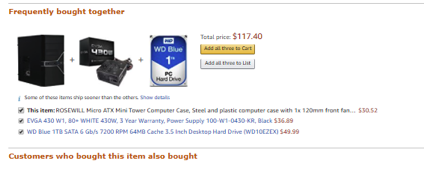 By utilizing this strategy, Amazon has been able to increase their sales by 35 percent. Implementing these practices in your online store has all kinds of benefits in relation to lifetime customer value, brand loyalty, and more. However, as great as these strategies are, the execution must be approached carefully in order to see positive results. If done poorly, your website can off as pushy.
Start with the homepage. This is where you should be promoting current specials, discounts, deals, or highlighting feature products. If you use personalization software, you can base the display on each individual user's previous behavior for a more targeted experience.
The product pages are perhaps the most quintessential place you should be conducting the bulk of your upselling and cross-selling. As in the picture above of the Amazon item, this is where you can look into your sales records and see which items are frequently bought together and promote them as a package deal.
Another great place to use these strategies is on the checkout page. Humans are impulsive creatures. If they are checking out, they have made the decision to pull the trigger on a certain product or service. Adding last minute upsells and cross-sells on this page is an excellent way to boost sales.
Offering recommendations like this doesn't come with a whole lot of risk. In the competitive landscape of online commerce, failing to utilize these strategies is essentially leaving money on the table.
Over to you
Running an online store, in any capacity, is not a simple task by any means. The scope of competition spans across entire industries. That being said, success depends heavily on your ability to spot the finer details of your target market and plan your approach accordingly. While every online store has a different scenario, the universal truth is that your business needs to be visible on the web, and the UX needs to be easy and informative from A to Z.
Pratik Dholakiya is the Founder of The 20 Media, a content marketing agency specializing in content & data-driven SEO and PRmention, a digital PR agency. He regularly speaks at various conferences about SEO, Content Marketing, Entrepreneurship, and Digital PR. Pratik has spoken at 80th Annual Conference of Florida Public Relations Association, Accounting & Finance Show, Singapore, NextBigWhat's UnPluggd, IIT-Bombay, SMX Israel, SEMrush Meetup, MICA, IIT-Roorkee and other major events. As a passionate SEO & content marketer, he shares his thoughts and knowledge in publications like Search Engine Land, Search Engine Journal, Entrepreneur Magazine, Fast Company, The Next Web, YourStory and Inc42 to name a few. You can connect with him on Twitter, Facebook, LinkedIn, and Instagram.
---
---
Subscribe to our newsletter
Fresh small business insights and ideas delivered weekly to your inbox, gratis.
---
Marketing To millennials
What are the kids into these days?
Before you go...
Get fresh small business insights and ideas delivered weekly to your inbox.