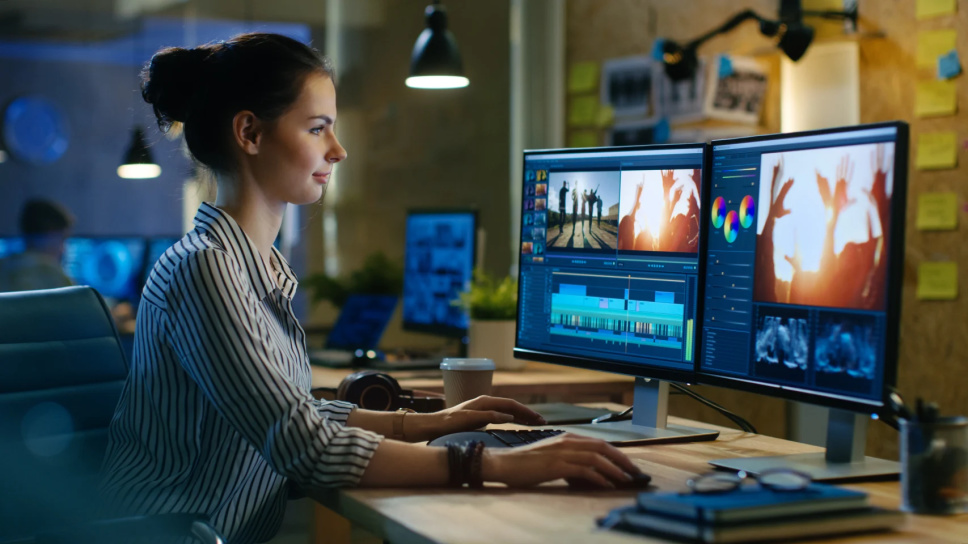 January 3, 2018
Digital Marketing
|
6 min read
The Best Video Marketing Tactics For You to Nail Your Campaign
Video marketing is a very popular development in today's digital marketing environment. About 87 percent of online marketers are leveraging video content when promoting products and brands. If you own a business—online or offline—you seriously need to consider video marketing. Video content gives you a personal and effective way to convey your message.
Businesses have to develop a sort of relationship with their customers. Now, if we want customers, we need to draw attention. Right now, as 2018 begins, video dominates the entire digital environment. Every major social brand encourages the uploading of videos.
A large amount of video content is being uploaded—right now
As a matter of fact, there are 72 hours of video content uploaded to YouTube every second. Pause for a second. Considering that it took you 30 seconds to read this text, it theoretically means that 2,160 hours of video has been uploaded to YouTube only. And guess what—there's Facebook, Instagram, Snapchat, and 100 more social media websites, 100 more video streaming platforms, and so much more other websites that upload their own video (treat these numbers like an aid for my point, not as true facts).
OK, perhaps that is too far, but there is a reason for that. You need to understand how popular this form of media content is. Video content thrives today, and every webmaster should leverage it to promote its brand and business around the web.
In today's post, we're giving you several video marketing tactics which you can leverage in order to nail your marketing campaign and bring impressive ROI due to your impressive strategic actions.
1. Have a plan, always
Always have a plan whenever you perform any type of marketing campaign. Uploading videos is a part of your video marketing campaign efforts, and like every campaign, it needs to be organized and structured. First off, ask yourself: What's the purpose of this video? There could be more than one answer. For example:
In order to drive more attention towards my products and services
To help my target audience solve a problem
To satisfy my target audience's need
Develop your video topics with this in mind, and know why you're doing it. Moreover, before developing any video, think if you can follow up on different topics. After all, you need to post content consistently, so you should leave more for later—planning is key.
2. Know your target audience
If you want to see consistent growth, you'll need to win your customer's attention and respect—then you have to make them loyal to your brand. But to do this, you need to fully understand your audience. You can't sell to everybody, so you need to know who the audience is.
Hannah Watson, the Marketing Strategist at Aussie Writings, suggests:
"Once you know who you're targeting, start understanding the way they think. Try to empathize with their most pressing problems and challenges. This way, you'll know exactly what it would be most helpful to them. Use the knowledge you gained to improve the quality and relevancy of your videos."
3. Focus on being relevant and helpful
Be relevant and helpful. That's it. If you do that and nothing else, you still have chances of being viewed. People tend to share things that are remarkable and impressive, therefore, start developing worthy content. This way, people will want to share it
Do that and you'll get your content shared around. Who knows? Maybe your videos get viral and you'll benefit from a ton of traffic in a short amount of time.
4. Don't be boring
Nobody likes videos that are boring. If it's boring, no one will even continue watching. As a brand, you need to spark emotions. The closer you get to your viewers' feelings the more they'll appreciate you. Add humor, add something impressive, think out of the box, and make their day better.
5. The first 10 seconds are the most important
It's really hard to capture the contemporary internet user's attention. You can do that by being very relevant in the first 10 seconds of the video. As you may see, every social media website is giving video developers great benefits. Videos get favored by search engines, by social media users, and by the overall internet population.
Takeaways
Video marketing is an amazing way of developing a high brand awareness. The more people get to see your videos the more your brand will win long-term. Because you see, as the conscious mind of the customer is awake, the subconscious consistently and obsessively builds roots.
If your videos are high quality and they are "winning the customer's heart," they'll associate certain feelings with your brand's name, product, or service. That is an emotional connection, which will eventually influence many more purchasing decisions which are about to come. Good luck!
---
---
Subscribe to our newsletter
Fresh small business insights and ideas delivered weekly to your inbox, gratis.
---
Small business guide to writing copy that converts
Great copy makes money!
Before you go...
Get fresh small business insights and ideas delivered weekly to your inbox.