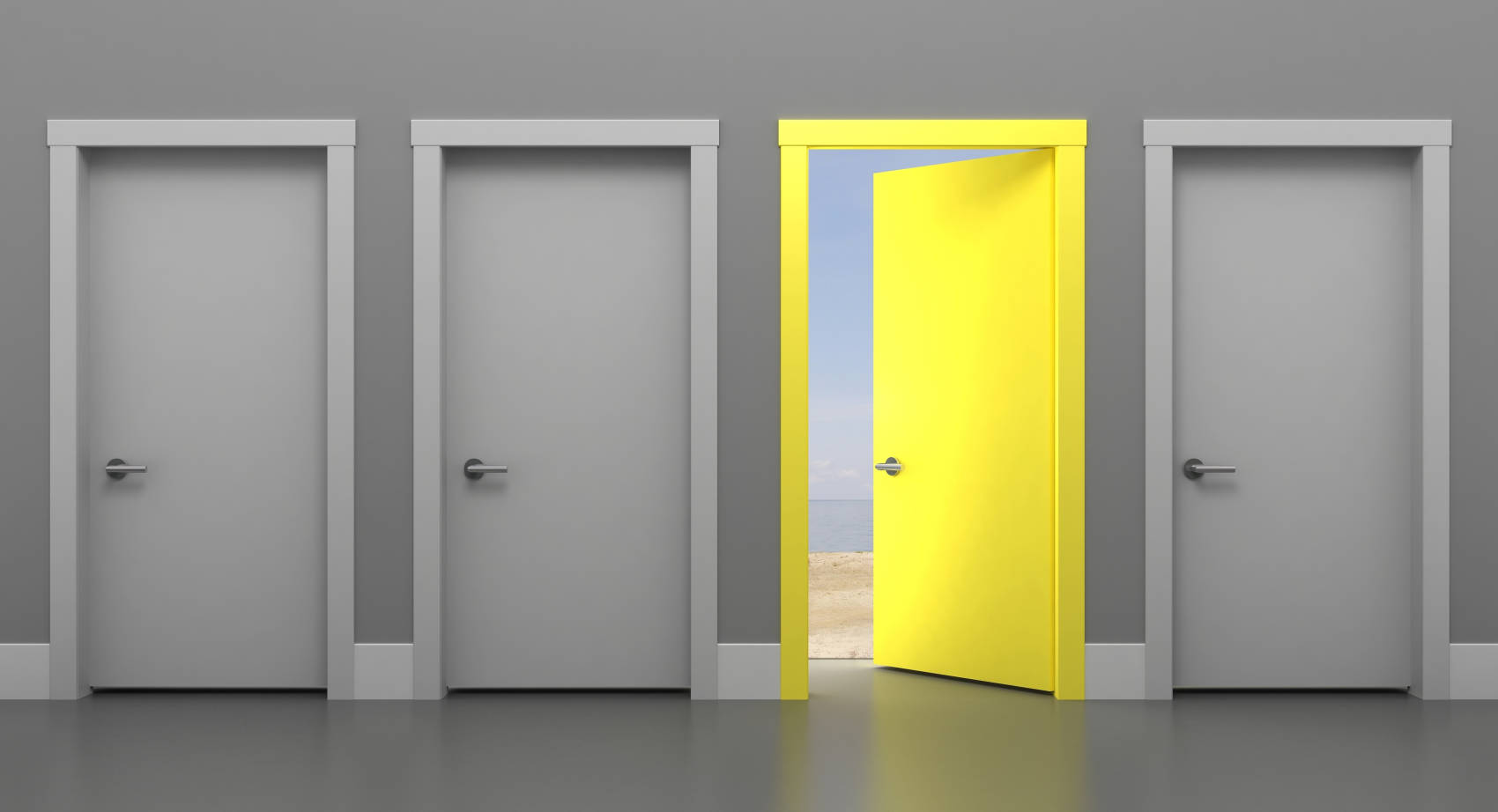 December 21, 2017
Content Marketing
|
8 min read
7 Quick Tips for Writing Killer Content that Converts
If you're struggling to craft high converting blog posts, don't feel bad. You're not alone.
Content creation has now turned into a competition. It's not easy to create content that converts. You can create an amazing blog post and spend days doing research. Then a few weeks later, your competition publishes the same blog post and outranks you.
This has led many small businesses to abandon their content marketing efforts. In fact, according to a recent survey, only 35 percent of companies truly believe that content marketing works.
The truth is you don't have to abandon your marketing strategy just because the competition is strong. You can still beat your competition by improving your writing to create high converting content.
Here are a few tips that will help you transform your blog content for the better.
1. Write like you talk
"Good writing is good conversation, only more so." ―Ernest Hemingway
If you want to connect with your audience through your content, you need to personalize your blog posts to appeal to that specific reader you're targeting.
Whether your target audience is college students, stay-at-home moms, or entrepreneurs, you can use your writing style to connect with them on a personal level.
Write like you're talking to your best friend. Use funny anecdotes, pop-culture references, and real-world examples to make your writing more entertaining. It doesn't hurt to include a meme or gif, too.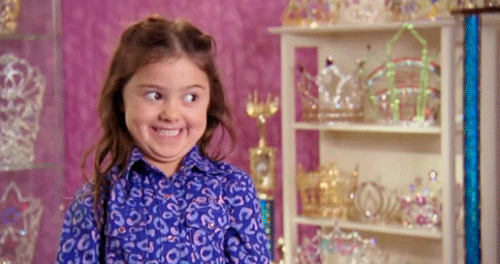 2. Write better spin-off content
If you're not sure about what type of content you should create for your blog, it's time you do your own research and figure out what kind of blog posts are most successful on the web.
You can use a tool like Buzzsumo to easily analyze any website, including your competition, or a keyword to find out what kind topics generate the most buzz for that specific category.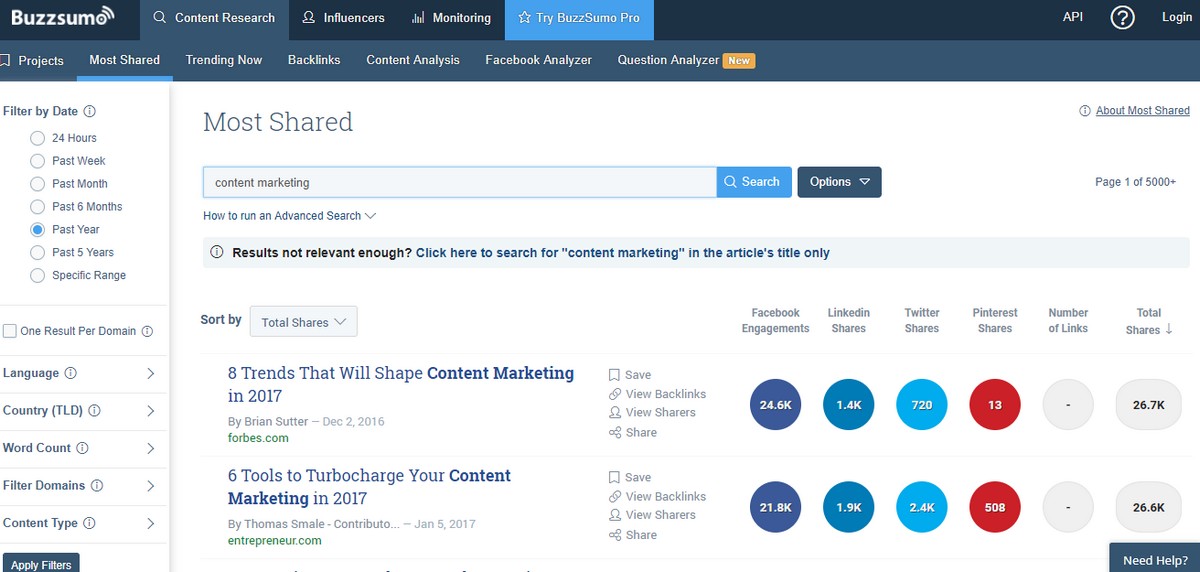 For example, "6 Tools to Turbocharge Your Content Marketing" appears to be one of the top performing articles under the keyword "content marketing." You can research this topic and find even more tools that are relevant to your audience (your audience may not be prepared to spend money on a tool, for example). Make sure you find enough tools to make it worth the readers time—in this scenario, you'll need at least 10.
Which blog post do you think is most likely to get the highest clicks? The one with six tools or your post with 10 or more tools?
3. Edit brilliantly
It is perfectly okay to write garbage—as long as you edit brilliantly. —C. J. Cherryh
It's a common practice among writers to consider the first draft of anything as garbage. Editing is the only process that polishes up your writing.
However, you shouldn't edit ruthlessly. Sometimes, even if you can explain something with fewer words, you shouldn't. Words can help connect your sentences while adding a natural flow of your writing.
When editing, treat your work like art. Get rid of the unnecessary parts, but always maintain your voice and follow your gut.
4. Evoke emotions
Storytelling is now a more important part of marketing than it has ever been before. Even the advertisements we see today manage to leave us in tears or cheer in joy. The brands that evoke such emotions in us are always the ones that leave a mark in our memory.
Take the famous Unsung Hero ad created by Thai Life Insurance, for example. The company became known around the world after the powerful message it showed from the viral video that generated over 30 million views.
Studies have found that emotional content and advertising campaigns outperform most other common types of content and make more memorable experiences for the users.
You can use storytelling in not just videos but also in your blog posts to deliver your points more effectively. It will make your blog posts more entertaining to read and also add an emotional effect on your blog posts as well.
5. Use calls-to-action effectively
The call-to-action (CTA) is the key element of a blog post that converts a website visitor into a lead. And the exact position of your CTA on will determine how well it converts.
For example, if you were to embed an opt-in form for a free checklist on a blog post, you shouldn't embed at the beginning of your blog post. Instead, you should make that offer when it's most likely for a user to opt-in for such a content upgrade. Like at the end of the blog post, when a user is inspired by the content and ready to take the next action step.
Position your content upgrades and lead magnets at the most effective places to achieve the best results.
6. Analyze content to find high converting posts
Another important aspect of creating successful content is to measure your best converting posts and then create more posts like them.
How do you measure your content ROI? Well, it depends on the type of goals you're seeking from your content strategy. You can create an extensive guide to get backlinks, a case study that generates more email subscribers, or a viral blog post to build more social media awareness.
Whatever goal it may be, you should analyze your content periodically to see which posts perform the best. And then you can create more similar content to increase the conversion rates.
7. Visualize with lots of images
Last, but not least, add plenty of images to visualize your blog posts.
Reports show that blog posts with images get 94 percent more pageviews than the articles without images.
So, use images whenever you can to make your content easier to digest. Use infographics to visualize content, charts, and graphs to present your data, and even slideshows to summarize your blog posts.
After all, a picture is worth a thousand words.
Conclusion
When it comes to content marketing, the more creative you are at crafting unique content, higher the chances will be for finding success.
So, don't be afraid to step outside of your comfort zone, experiment with new topics, and go the extra mile to satisfy your audience.
Syed Balkhi is an award-winning entrepreneur and co-founder of OptinMonster, a powerful conversion optimization software. He is also the founder of Awesome Motive the company behind several popular small business software that collectively powers over 3 million websites and serves billions of page views every month.
---
---
Subscribe to our newsletter
Fresh small business insights and ideas delivered weekly to your inbox, gratis.
---