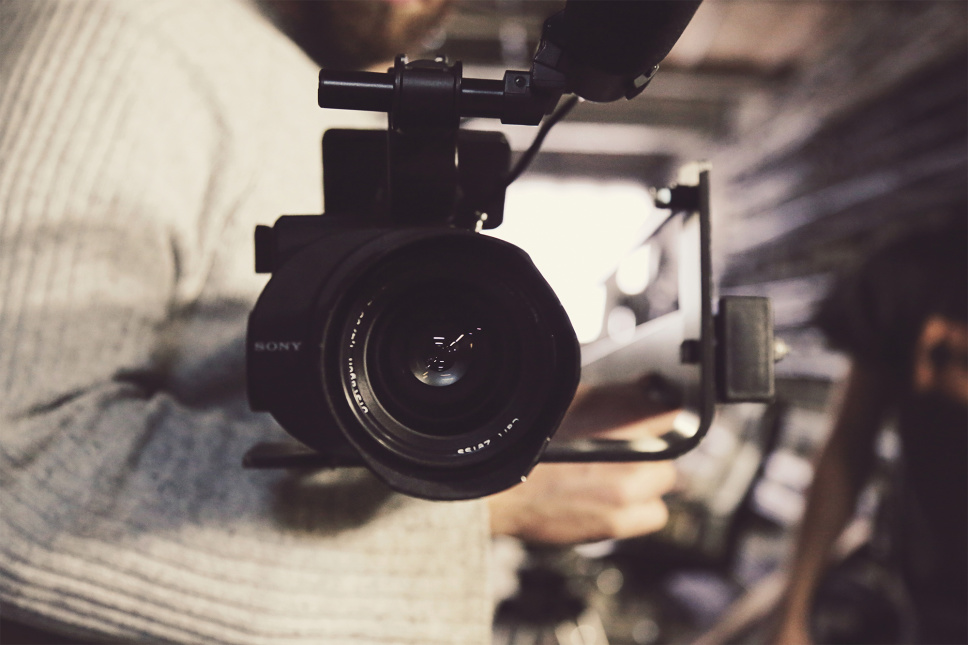 January 7, 2019
How To Make a Video for Your Small Business
Video is taking over the world.
Videos make up 70 percent of internet traffic today. The number of people watching 10-plus hours of online video per month jumped 50 percent in one year alone.
Some savvy businesses are tapping into its potential. Video has been known to increase email click-through rates by 200–300 percent, increase web traffic by 41 percent, and grow revenue 49 percent faster.
That's marketing gold.
And, according to Animoto's Online and Social Video Marketing Study, 4 in 5 consumers say they find video demos helpful and nearly three-quarters believe videos describing products are important. In other words, consumers find video important and, dare we say, necessary when they are in the process of making a decision about whether or not to buy from you.
There's no question that video is an important tool in your arsenal. The real question, however, is where do you start?
In this guide, we'll walk you through everything you need to know about video marketing. You'll learn how to create a marketing video, how to shoot videos with your iPhone, how to track video marketing success, and more.
If you're one of many small business owners who don't believe creating successful video content is within your grasp, think again. There are a number of cheap (and free) platforms to help businesses with limited budgets and next to no AV technologies available post interesting, high-quality videos online.
Let's dive in.
1. Decide what kind of video you want to make
Before thinking about shiny new video equipment or out-of-the-box promotional ideas, think through what kind of marketing videos work best for your business and goals. Creating a video just because it's a popular format isn't enough. You need to understand the gap you are filling with the video and what would resonate best with your audience.
Here are the most popular types of marketing videos:
Company overview: What your business does, how, and why. Use this video to introduce visitors to you, your business, and your website.
Product or service demo/tutorial: Showcase your products or services by showing a demo of the service or a tutorial of a product being used, then explain the benefits and unique features. Here's an example from online retailer, Zappos: https://www.youtube.com/watch?v=THIcP0Rchns
Case study with customer testimonials: Interview happy customers and have them speak freely about their experience with your company.
Infographic video about stats and data: Learning about a company or product/service can be more fun and easier to understand when we see data in a video, rather than reading a long and boring white paper.
Animated explainer video: These are incredibly popular and can be quite short, which increases the likelihood that people will watch it all the way through.
About us: You can make a more in-depth video about your corporate culture, the management team, or your entire crew (and with video, you can make it as fun, silly or serious as you'd like).
FAQ video: Video can also be a great way to answer any questions that potential customers might have before they make a purchase. This could include videos showing how to set up or use a specific product or product features, how to update an old product, and more.
Live videos: This is a hot trend that is getting more and more popular.
To recruit employees: Brag about how awesome your business is and what makes it special to work there (this video can even be used in social media ads to recruit).
2. Get the right equipment
Now comes the fun part - shopping! While no one can say no to a shopping spree, buying the right video equipment can be daunting.
The good news is that all video production setups have the same five elements in common. They are:
Camera
Tripod
Light
Microphone
Editing
Then, you need to decide how much money you are willing to spend on these elements. If you are just starting off, you may want to start with a smaller budget to test out the creation process and make sure your audience responds well. Once you are sure you want to invest in video content, you can start splurging on higher-end items.
Here are our top recommended picks for video equipment based on budget:
Starting off: $0 to <$300 budget
Good news! The most important piece of equipment is in your pocket. Yup. Smartphones are equipped with sophisticated cameras, and you can get some excellent video footage just by using your phone. If you've kept your phone in decent shape, then it's going to be your best friend for video.
Here are some tips for shooting videos with your iPhone or Android phone:
Shoot horizontally: This will make for the best experience when your video is done. Most people view videos on wide screens (televisions, computer monitors, iPads), so you should maximize their experience by holding your phone sideways.

Stabilize your smartphone: Use a tripod, or even stabilize on top of another object. Our in-house video expert, Chris Lavigne, recommends the JOBY griptight.

Create good lighting: One of the cheapest, easiest ways to make your video look professional is good lighting. Shadows on your subject's face can make nearly any video look amateur.

Don't zoom in with an iPhone: If you're zooming in, the result will be grainy. You'll be giving up valuable pixels, making the end result less sharp. If you want to get a closer shot of your subject, move the phone or tripod closer in.
With your camera already taken care of, here are some budget recommendations for the other pieces of equipment you'll need:
Tripods
Go for the Manfrotto Befree Tripod if you're looking for a quality, lower-end tripod. At $150, you've still got some cash to play with.
Or you could get a tripod that you can wrap onto a chair, like Joby's GripTight PRO Phone. While these can't go as high as a normal tripod, they add an advantage: sometimes they can provide for unique angles. This one comes in under $75.
Microphones
Rode's VideoMic Me is a great, affordable microphone for iOS devices and newer Android devices. This is great if you are filming someone where wiring speakers up with a mic doesn't make sense. You can get one for under $75.
If you can wire someone with a mic, this cheap lav mic option will give you better sound. Plus, it has a switch that allows it work with both smartphones and normal cameras and camcorders.
Lights
A cheap umbrella set ($60) or LED light set ($125) are great places to start because you'll have almost all your lighting needs covered in a single package.
A ring light is a versatile and easy to use option. You just position the camera to shoot through the opening and you're good to go. You can get one of these for less than $75.
Editing
Free software is great and certainly budget conscious, but if you're ambitious about what you'd like to do with video, it might be time for an upgrade. If you want eventually to move to Premier, the industry standard, but can't afford it yet, Premiere Elements is a good place to start, and it's definitely within budget at $80.
Ready to invest: <$1,500 budget
Here are our recommendations for a slightly bigger budget.
Cameras
The most commonly used in this price range is probably the Canon Rebel series. Coming in under $800, it leaves you lots of budget for more toys.
Another option, especially if you do a lot of impromptu video or if you travel is one of Sony's mirrorless cameras, like the Alpha a6000. You get excellent performance, and the smaller size makes them super portable.
Tripods
The same Manfrotto Befree Tripod mentioned above is still great for this level, but now you don't need an adapter because it mounts to the camera's tripod mount with no problem. For a little more, you can get the video version that will let you pan smoothly to add motion to your b-roll shots.
Microphones
The Rode Video Mic Go is a very common way to add much better quality audio to camera than the built-in microphone. Get this one for around $100.
The same cheap lav mic listed above will work on these cameras just fine. At $20, you might as well just grab one or two.
Lights
Lighting is critical to getting a good shot, and with a plethora of cheap lighting kits on Amazon, you should be able to get set up with no problem. Check out the StudioPro Softbox kit. It uses standard, cheap CFL bulbs you can buy at the grocery story when they burn out and includes a complete backdrop set. Not bad for under $400.

Of course, now that you have a camera that you can mount things to, you should explore your options with mounted lighting. Mounted lighting gives you more mobility, and is great for impromptu video shoots. This Genaray LED light is a good example. It lets you change the color of the light to match the lights in the room, and it comes in under $200.
Editing
If you've been using iMovie but want to move past its limitations, try Final Cut Pro X. It keeps the same feel as iMovie but has many pro features and is perfect for when you need quick turnaround times. It's a great price for pro software at $300, and the power could be worth it, especially if you have some of the other bases covered already.
Adobe's Premier Pro is subscription software, costing $20/month ($240/year). It's a different kind of budgeting, but it's pretty much the industry standard, so worth the long term cost. Bonus: If you use other Adobe Creative Cloud apps, like Photoshop, you can get bundle pricing from Adobe.
3. Think about where your content should live
Don't put off thinking about your video hosting platform until the last minute. From YouTube to Twitter, where you choose to host your video depends on what kind of content you are creating and how you want your audience to engage with it.
Here are the most popular video hosting sites:
YouTube: Video content that lends itself to search, such as tutorials and product demos, will thrive on the second largest search engine in the world. Unlike other platforms, users on YouTube are often seeking out content rather than passively discovering it.
Facebook: If your video content is highly engaging or inspires your audience to share, Facebook may be the best choice. Why? Facebook leverages the power of your connections and followers who engage with your content on the platform to determine who might find the video relevant.
Similarly, the autoplay feature on Facebook is a content marketer's dream. Imagine a user aimlessly scrolling through their Facebook feed when the movement of a video autoplaying captures their attention. They stop, begin watching, and feel inclined to share.
Facebook Live is also emerging as a valuable avenue for audience engagement. If sharing in real time isn't a possibility, lives (despite their name) can also be scheduled or linked directly to webinar platforms and broadcast on Facebook natively. Many companies kick off Facebook Live videos with a 30-second countdown to give users time to hop on and start watching, thereby creating a strategic buffer to acquire audience attention before the real content begins.
Instagram Stories and Snapchat: Both platforms share similar formats: vertical video that remains visible for 24 hours in short clips that followers can watch sequentially. Video content that tells a story, offers a peek behind the scenes, or reveals a more personal side to a brand thrive on both Instagram Stories and Snapchat.
Similarly, video content that can be created quickly, without the need for editing and production, is perfectly aligned with the limited timeframe and fleeting nature of these platforms. Chronology plays a large role on both platforms so recency and frequency of fresh video content is critical to maintaining visibility. The more frequently you post, the more often your stories are bumped to the front of the feed.
Twitter: Videos that are 140 seconds or less, especially those that resemble a meme or that only require a few seconds to evoke a reaction, are quickly embraced on Twitter's expanding video network. The official channel of the Twitter Video team retweets content daily that resembles many videos once shared on Vine in their nature and quality.
And that brings us to the final stage: when you are happy with the end result, how do you actually promote your video? LINK TO VIDEO MARKETING BLOG
---
---
Subscribe to our newsletter
Fresh small business insights and ideas delivered weekly to your inbox, gratis.
---
Before you go...
Get fresh small business insights and ideas delivered weekly to your inbox.