9 Proven Techniques to Increase Sales
Is your company standing on the edge of breakthrough success? Give it the push it needs by downloading your free copy of The Edge of Success: 9 Building Blocks to Double Your Sales, created by Infusionsoft CEO Clate Mask.
In this book, you'll learn:
Proven techniques for converting prospects into customers, and customers into raving fans

How to systemize and simplify your business

The true art of effective follow-up

The one "secret" every small business owner must know
The Edge of Success is the one resource every entrepreneur and small business owner or decision-maker needs to make the leap from "doing well" to "big success." Download it today!
"Hands down, Clate Mask's Edge of Success is the #1 resource every entrepreneur must have in their tool kit.
Whether you are just getting started in business or have been around a while, the lessons in The Edge of Success have the power to recreate, reinvent and realign your business."
— Thomas Ribar, President
Management Solutions International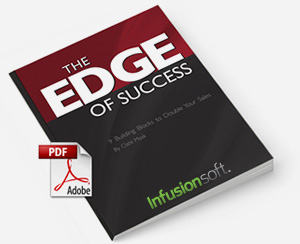 View our privacy policy