You already know Infusionsoft helps small businesses succeed with sales and marketing software. Why not earn rewards for sharing Infusionsoft with your friends and colleagues?
Who should you refer?
The most successful Infusionsoft customers are small businesses (3 to 25 employees) that are actively attracting new leads online and looking for ways to grow sales and save time.
Refer a friend today!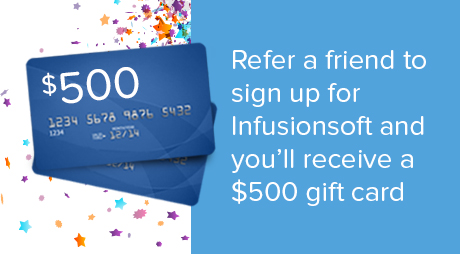 One per customer. Replaces previous customer referral reward program. Partner referrals are not eligible for this promotion. International customers will receive a $500 equivalent. If new customer cancels within 30 days, referral reward will be forfeited.