Put our experts to work for you.
Over the years, we've helped thousands of small businesses all over the world grow and succeed with Infusionsoft. And what we've found is that the most successful customers are those that fully implement the software.
That's why we are pleased to announce the return of our acclaimed Implementation Accelerator, back by popular demand, on June 18-20, 2014. Get your business and campaigns fully up and running during this three-day event, and see immediate results.
Secure your spot by May 20th, and save $1,000.
What will I get?
You'll have unlimited access to a group of Infusionsoft and marketing experts and resources including:
Infusionsoft small business growth experts and certified partners
Infusionsoft software and API developers to implement scripts
Copywriting, design and video consultants to deliver effective content
Access to over 100 pre-written campaigns you can customize to fit your needs
GroSocial social media campaign design
Assistance in the development of an "evergreen" webinar
SEO/Analytics consultation
You'll spend three days working one-on-one with our team to get your campaigns fully created, implemented and ready to make you money.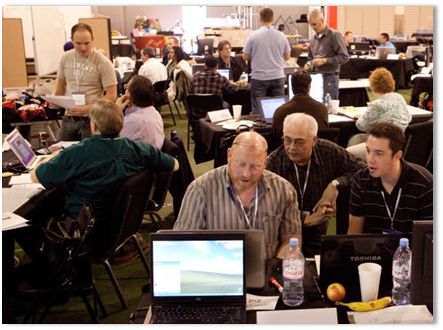 Register now for the Early Bird offer
The Early Bird offer is $8,999 for three days of one-on-one implementation with a 100% money-back guarantee. Early Bird offer expires on May 20, 2014. Regular event cost is $9,999.
Money Back Guarantee
Money Back Guarantee must be submitted in writing to the Infusionsoft facilitator by 5pm on the third day of the Implementation Accelerator. Any verbal or written requests received after that time will not be valid.
Space is limited to 25 people, so apply today. Registration closes at 5 PM, June 13th.
"I feel I accomplished more in a few days than I had in the past year"
—Marty Velasco, Fitness Edge, Lakewood, OH
"It would have taken me more than a year... AND 5 times the investment... to accomplish what we did in a few days."
—Ruby Newell-Legner, RubySpeaks Inc., Littleton, CO
"We came with a list of goals, but wound up accomplishing all of those and many others that weren't even on our list. We didn't know what we didn't know! THANK YOU!!"
—Jeannette Hait, Hearing Aid HealthCare, Palm Desert, CA