Put our experts to work for you.
Over the years, we've helped thousands of small businesses all over the world grow and succeed with Infusionsoft. And what we've found is that the most successful customers are those that fully implement the software.
That's why we are pleased to announce the return of our acclaimed Implementation Accelerator, back by popular demand, on June 18-20, 2014. Get your business and campaigns fully up and running during this three-day event, and see immediate results.
Who is the Implementation Accelerator for?
This event is NOT a training program. Instead, it's three days of access to our best marketing minds and resources to help you define your campaign strategies and get them in place. This event was made for you if you are:
An established business with good prospect flow and solid customer base
Itching to implement strategies you've been putting off
Leaving money on the table because you're not marketing as effectively as you know you could
An existing client, or new client with a defined Lifecycle Marketing process
Working hard and ready for RELIEF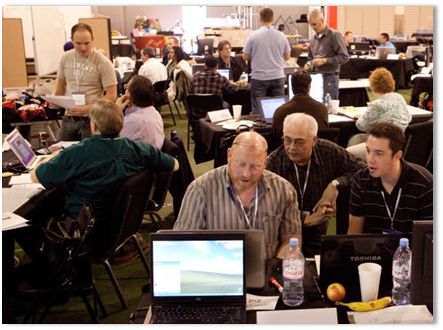 What will I get?
You'll have unlimited access to a group of Infusionsoft and marketing experts and resources including:
Infusionsoft small business growth experts and certified consultants
Infusionsoft software and API developers to implement scripts
Copywriting, design and video consultants to deliver effective content
Access to over 100 pre-written campaigns you can customize to fit your needs
GroSocial social media campaign design
Assistance in the development of an "evergreen" webinar
SEO/Analytics consultation
You'll spend three days working one-on-one with our team to get your campaigns fully created, implemented and ready to make you money.
How do I sign up?
The event cost is $9,999 for three days of one-on-one implementation with a 100% money-back guarantee. **
Space is limited to 25 people, so apply today. Registration closes at 5 PM, June 13th.
* Airfare offer is for one person
** Conditions apply. See Implementation Accelerator Agreement for details.